Youth are the future of our Nation. Yet many needy and the less privileged Youth, particularly those in the rural areas, are being left out from the mainstream of education and other opportunities. They are pleading to you and your organization to take them into consideration.
In answer to their plights, the Brothers of St. Gabriel established its first foundation known as Montfort Boys Town (MBT) in Shah Alam, Selangor in 1959. The demand for more places had prompted the Brothers to reach out and establish Centres in Sabah and Melaka.
"A Home Truly Dear for Needy Youth" was established in Sabah in June 1999 on an 1.1-acre site in Donggongon, Penampang, starting with 15 Trainees on makeshift facilities. Gradually, the number increased to 70. With the steady support of the public, the corporate sectors, individual donors and Charitable Foundations, this humble beginning has begun to bear fruits after having equipped many Youth with character formation, technical skills, discipline, spiritual and moral values for dignified living.
From 15 boys Trainees in 1999, we have 136 Youth in our campus today. From 1.1-acre site in Donggongon, Penampang, we moved into a bigger site of 10.86 acres at Kinarut, where we have a residential campus, a skill development campus that featured 4 workshops.
Today, we have more than 130 trainees aged between 16 to 20 years old at our main campus and four trade courses offered, namely motor mechanics, welding, furniture making, and refrigeration & air-conditioning mechanics-domestic. In addition to the skill training courses which are accredited to the Jabatan Pembangunan Kemahiran (Department of Skill Development), the trainees are also being taught basic conversational English, arithmetic and basic computer knowledge. In 2011, Montfort Youth Training Centre(MYTC) extended the residential care programme to the school-going youth from the age of 13 years to 19 years old under our rural youth development programme in San Damiano Boys' Hostel, Kiulu. Subsequently in 2014 we extended our program to St Mary's Youth Hostel in Sandakan. The core objective of these two hostels is to provide a secured and conducive environment for the boarders to improve and excel in their academic studies including instilling discipline and leadership under our daily residential care programme. Entering the 19th year of our establishment, currently we have 136 trainees undergoing two years technical skills training and character formation at our Kinarut campus with another 80 school going youth at San Damiano Boys' Hostel, Kiulu and St Mary's Youth Hostel, Sandakan.
Montfort Youth Training Centre is managed by the Brothers of Saint Gabriel with the help of the Board of Governors led by YBhg Tan Sri Datuk Bernard Giluk Dompok as the Chairman. There are around 60 full time staff, working for the welfare and education of the Youth in the residential care, industrial skills training, and character formation for their personal growth development.
Present Members of the Board of Governors
chairman
YBhg. Tan Sri Datuk Bernard Giluk Dompok
Members
YBhg. Datuk Margaret Fung
Mr. Chiang Wei Chia
Mr. Roger Ling Kong Siong
YBhg. Datuk Willie Wong Chik Hing
YBhg. Datuk Johnny Wong Chen Yee
Mr. Joseph Tek Choon Yee
Ms. Julia Willie Jock
Ex- Officio Member
Pengarah, Jabatan Perkhidmatan Kebajikan Am Sabah
Board Secretary
Mr. Frederick Mah Hon Phing
Director, Montfort Youth Training Centre
The Management Committee is the highest decision making body that meets regularly for management of the day-to-day operations of the Institution.
Policy matters are reserved for the Board of Governors and the Provincial Superior and his Council.
Management Committee members comprising the following:
CHAIRMAN
Mr. Frederick Mah Hon Phing
MEMBERS
Mr. Vincent Wong
Ms. Eveline Eduwardo
Mr. Dius Jastine Tunjan
Ms. Sabrina Wu
Ms. Meta Melanie Godfrey
Mr. Andy Pius
Ex- Officio Member
Bro. Thomas Paul sg, Local Superior
Together We Achieve
United in strength in spirit and in soul
MYTC we are always on the go
We conquer all our rivals
We always do our best
No one will ever beat us
We're better than the rest
MYTC together we achieve
Though sometimes we might fall
We will never lose our hold
So follow our examples and do as you are told
"I MUST! I CAN" as Montfort motto goes
Although it's hard to follow
Never will we slacken
Together let us sing
Our song so bright and bold
MYTC together we achieve
Though sometimes we might fall
We will never lose our hold
United in strength in spirit and in soul
MYTC we'll always reach our goal
All challenges we face them
We always do our best
All burdens will be lightened
In God we take our rest.
Our Mission
To develop Youth to their full potential WHILE UPHOLDING THE MONTFORTIAN SPIRIT.
Our Aims and Objectives
The aims of Montfort are two-pronged, namely Character Formation and Skill Training. Being competent in skill is balanced with being disciplined in character so that the Youth are ready for gainful employment and become vibrant nation builders.
The objectives of Montfort are three-facet, namely –
• To provide residential care for Youth under its training programme
• To provide guidance and accompaniment for integral human development
• To provide foundational education and industrial skills development
montfortian education charter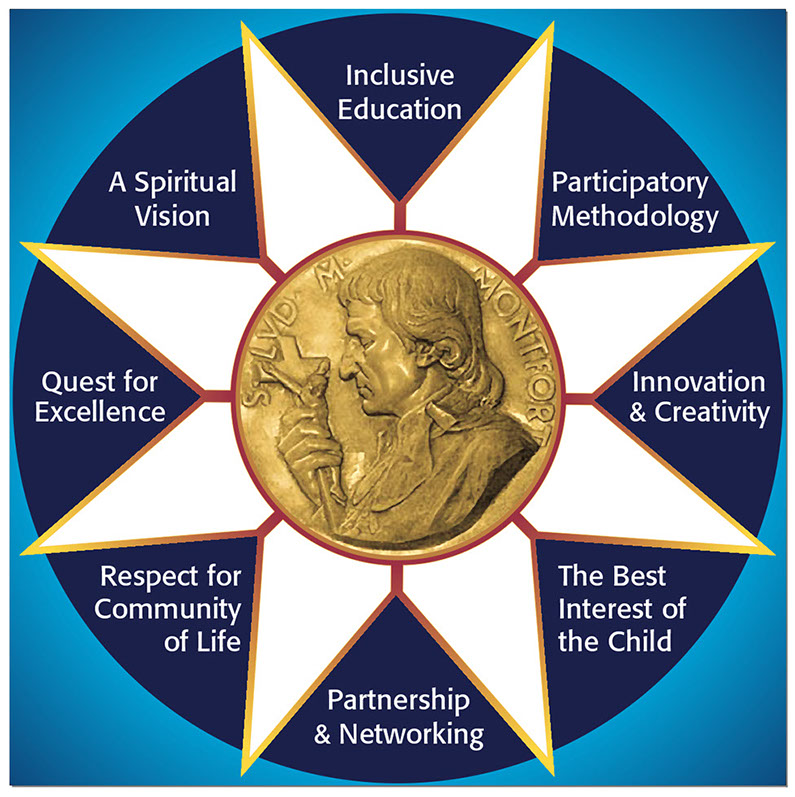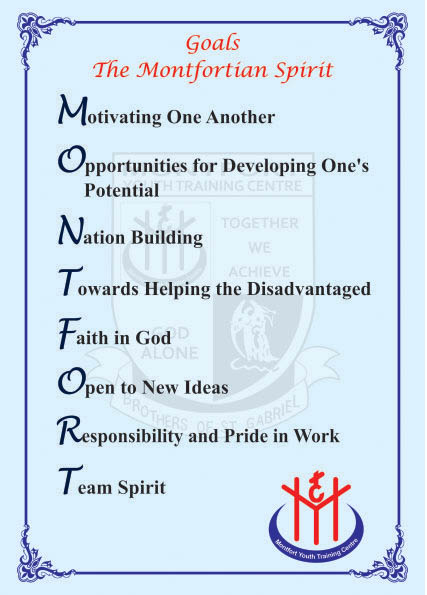 Our Approach
MYTC's two-year residential programme teaches living skills and is tailored to instill discipline, guidance, spiritual formation, soft skills and leadership skills. Our challenge is to cultivate the importance of good attitudes and positive traits which will transform our Trainees to be a resourceful persons for their families, communities and society.